Interactive Brokers
Build 4
Interactive Brokers broker connection
$49.95
/ Lifetime
OR included in Premium subscription
* all Extensions require a Wealth-Lab 7 Subscription
Interactive Brokers
Interactive Brokers live trading and data interface.
Connect to IB TWS or the IB Gateway
Automated strategy trading
Order types: Market, Limit, Stop, and Market On Close
Historical and Streaming data using your IB Data Subscriptions for quotes, charts, and Strategy Monitor
Requirements:
---
DISCLAIMER:
The third party data is subject to the availability of the respective provider (website) and may be delayed or inaccessible periodically due to network or technical reasons. As the data is not guaranteed to be accurate, it is your responsibility to confirm that it does not contain errors before utilizing it for any type of backtesting or trading activities. Quantacula LLC is not to be held liable for any errors in market data or its inavailability.
Screenshots
Streaming Charts
Drive your realtime trading using your IB data subscriptions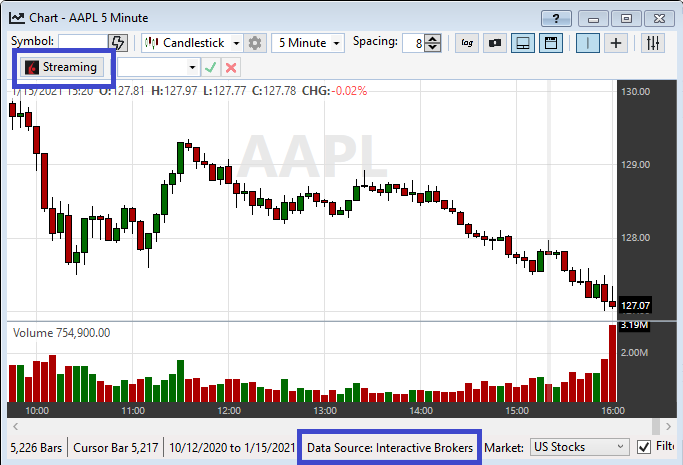 Historical Data
Create and Update DataSets using IB data subscriptions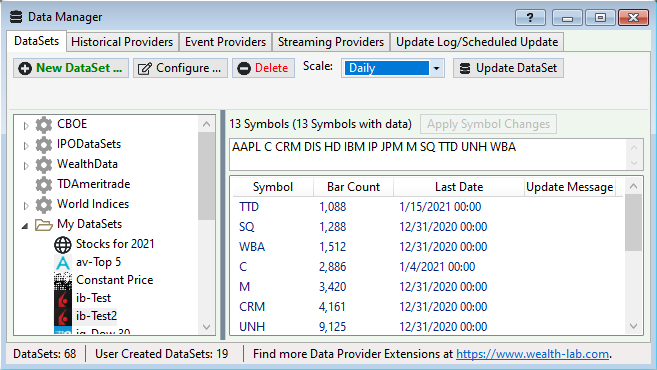 Automated Trading
Manually Stage and Place orders, or just let Wealth-Lab trade your strategies automatically!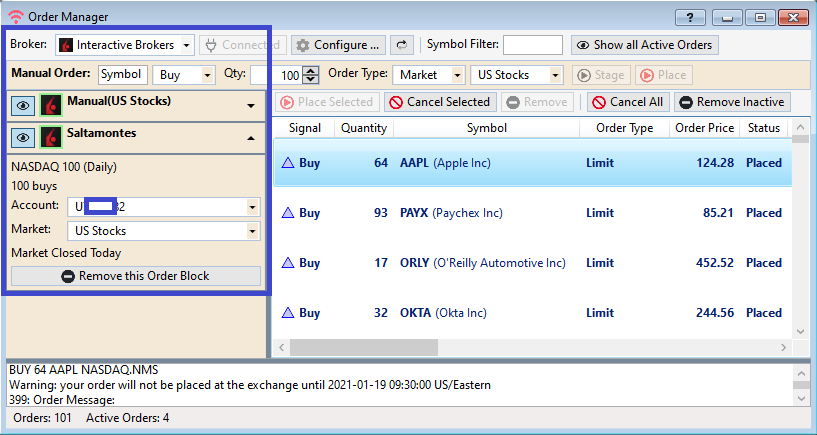 Quote Monitor
Monitor and trigger your end-of-day orders using the Quotes tool
Connection Settings
Connect to TWS or the IB Gateway after a quick one-time set up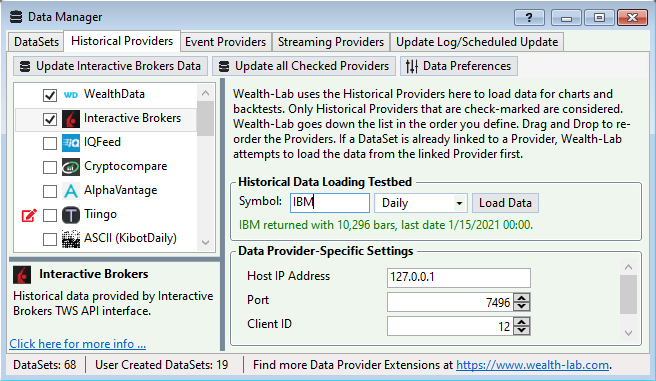 Change Log
Build 4 - 6/12/2021
Fixed bug preventing short orders from being placed.
Build 3 - 3/30/2021
Fixed historical requests for Forex data.
Refer to Help > Extension > Interactive Brokers for guidance on entering symbols/contracts.
Build 2 - 3/17/2021
Fix: multiple simultaneously placed orders were failing for duplicate order IDs.
Integrate help topic: Extensions > Interactive Brokers.