IQFeed
Build 8
IQFeed streaming and historical data
$49.95
/ Lifetime
OR included in Premium subscription
* all Extensions require a Wealth-Lab 7 Subscription
IQFeed
DTN IQFeed provides extensive information on many tradable instruments (including stocks, options, futures and SSFs, funds, bonds, indices, currencies and more) from several dozen listed markets.
Supports all scales: Daily, minute, second, and tick intervals
IQFeed is a fast and reliable source to drive Quotes, Charts, and the Strategy Monitor
Use IQFeed as a primary or backup data provider
Click this link to get a free trial of IQFeed
Requirements: Download and install IQFeed Client Software
---
DISCLAIMER:
The third party data is subject to the availability of the respective provider (website) and may be delayed or inaccessible periodically due to network or technical reasons. As the data is not guaranteed to be accurate, it is your responsibility to confirm that it does not contain errors before utilizing it for any type of backtesting or trading activities. Quantacula LLC is not to be held liable for any errors in market data or its inavailability.
Screenshots
Connection Settings
Set up your IQFeed credentials and let Wealth-Lab automatically connect on demand.
DataSets and Update
Test your connection, create and update DataSets of any scale!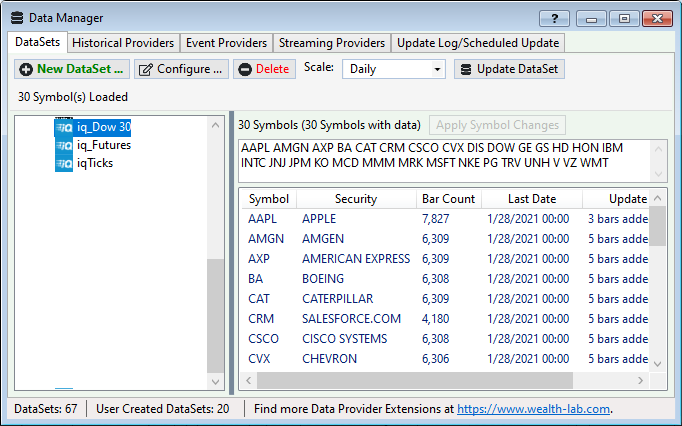 Quote Monitor
Feed the Quotes Tool IQFeed streaming data to monitor and trigger your end-of-day stop/limit orders at just the right time.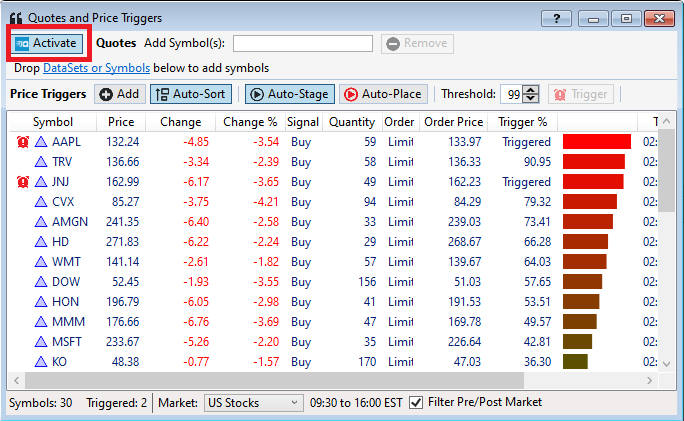 Streaming Charts
IQFeed powers streaming charts and Wealth-Lab's faster-than-ever Strategy Monitor with options for full streaming, polling, or streaming bars!
Change Log
Build 8 - 10/21/2021
Improve performance when canceling Data Requests.
Build 7 - 9/20/2021
Streaming disconnect handling improvements.
Build 6 - 7/16/2021
Fixed compatibility with IQFeed client version 6.2.x.
Build 5 - 6/3/2021
Fixed an issue causing partial daily bar to sometimes not appear in streaming charts.
Build 4 - 5/19/2021
Fixed streaming updates for index symbols.
Build 3 - 3/23/2021
Password no longer visible in configuration interface.
Build 2 - 3/17/2021
Fixed connection issue with newer DTN Client software