Indicator Profiler
Build 6
Provides detailed analysis of the performance of each installed indicator
$49.95
/ Lifetime
OR included in Premium subscription
* all Extensions require a Wealth-Lab 7 Subscription
Indicator Profiler
The Indicator Profiler extension for Wealth-Lab calculates Edge Factors for all of the indicators (including extensions) that you have installed. The Edge Factor expresses how much of an edge each indicator provides compared to the return of the overall market.
Screenshots
Profile Your Indicators!
Quickly discover how much indicators can contribute to Alpha for a given DataSet, scale, and holding period.
Evaluate Efficacy
Dig in and evaluate how your favorite indicators can predict market return for a specified holding period.
The Signal States
In its search for Alpha, the profiler's analysis works with these 6 signals states.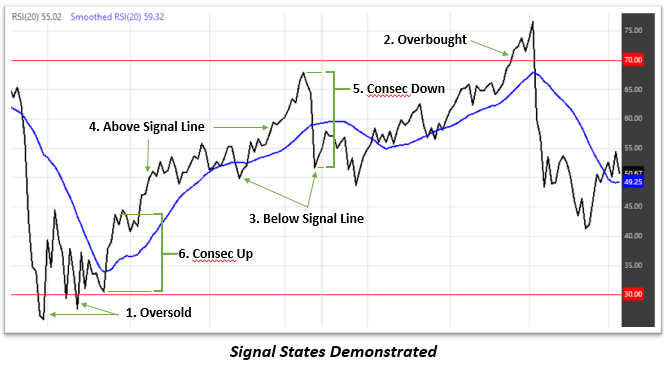 Change Log
Build 6 - 10/21/2021
Standardize on Open to N-Bar Open Percentage Return calculation.
Build 5 - 10/12/2021
Empty results will now sort to the bottom, even below negative value results.
Results with a low number of Observations are now dimmed, with a control for the number of Observations required.
You can save the selected Indicators as a baseline, and restore it with a right-click.
You can activate and deactivate all, or selected Indicators with a right-click.
Smart double click from results list to Evaluator, changes graph settings based on which cell double clicked.
Added button in Evaluator to Filter Tails for Observations less than specified threshold value.
Evaluator graphed lines whose Observations falls below filtered value have reduced opacity.
Build 4 - 9/29/2021
Fixed some out-of-range exceptions that caused the profiling to be slightly delayed.
Sort order is now retained when list results are copied to clipboard.
Build 3 - 8/7/2021
Added multi-column sort support.
Build 2 - 3/15/2021
Fix: Selected History Scale was only being referenced on second Profiler run after the change.